Hans Peter Eriksen bought one half of the original Storakeren homestead from the Jørgsensen family in 1879.
Hans Peter Eriksen kjøpte en halvpart av den orginale Storåkeren gården fra familien Jørgensen i 1879.
The parents / Foreldrene

1896 – All the children at Storakeren / Alle barne på Storåkeren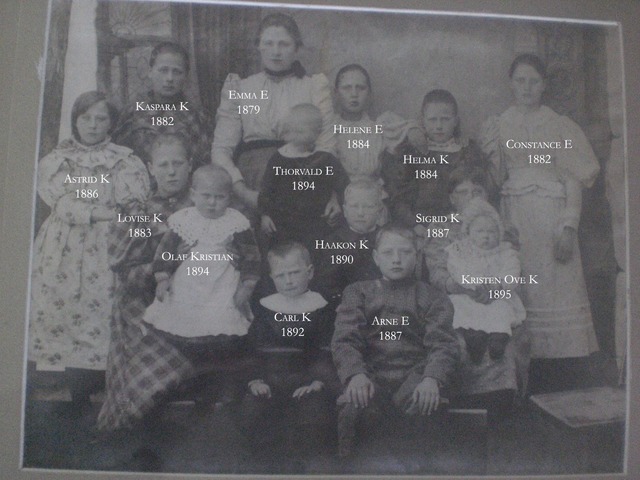 This picture has hung on the wall in the attic at Storakeren as long as I can remember. It shows all the children at Storakeren – both the Kristensen-children and the Eriksen-children. Ovidia Kristensen and Hans Peter Eriksen were sibling, so the children in the two houses were cousins.
Dette bildet har hengt på loftet på Storåkeren så lenge jeg kan huske. Det viser alle barna på Storåkeren – både Kristensen-barna og Eriksen-barna. Ovidia Kristensen og Hans Peter Eriksen var søsken, slik at barna i de to husene var søskenbarn.
1900 census / Folketellingen 1900
Link to listing / Lenke til oversikt
1910 census / Folketelling 1910
Link to listing / Lenke til oversikt
1920 census / Folketelling 1920
Coming soon
The children / Barna
1 – Lovise Kristine Eriksen
(born July 12 1878 – died Nov 4 1878, 3 months old)
2 – Emma Lovise Eriksen
(born Aug 17 1879 – died March 25 1915, 35 years old)
3 – Constance Johanna Eriksen
(born July 17 1882 – died Oct 31 1945, 63 years old)
4 – Helene Kristine Eriksen / Helene Falch
(born May 21 1884 – died of tubercolosis Dec 30 1918, 34 years old)
5 – Petra Eriksen
(born Feb 3 1886 – died May 21 1886, 3 months old)
6 – Arne Simon Christopher Eriksen
(born Aug 1 1887 – died Nov 3 1978 in Fairbanks Alaska, 91 years old)
Arne was a golddigger in Alaska / Arne var gullgraver i Alaska
7 – Olga Eriksen
(born Feb 16 1890 – died March 3 1890, two weeks old)
8 – Thorvald Dreyer Eriksen (inherited the homestead/arvet gården)
(born Feb 2 1894 – died Dec 19 1978, 84 years old)
9 – Olga Adelia Eriksen / Olga Adelia Nilsen
(born May 15 1896 – died Oct 10 1992, 96 years old)
10 – Fridthjof Hartvig Eriksen
(born June 3 1898 – died April 29 1915, 16 years old)
11 – Ruth Eriksen / Ruth Falch
(married her sister Helene's husband after her sister passed away)
(born Feb 15 1900 – died Feb 21 1980, 80 years old)