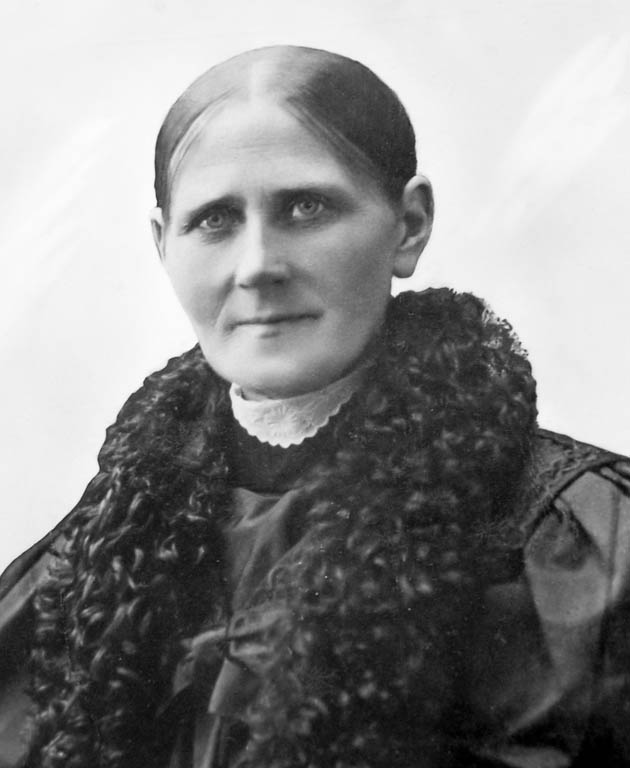 1860
Ovidia Erikka Eriksen was born October 19 1860 and was the youngest of nine siblings.
Ovidia Erikka Eriksen ble født 19. oktober 1860 og var den yngste av i alt ni barn.
1881
Ovidia married Kristen Dec 30 1881. Kristen was 26 and Ovidia 21. They moved in at Storakeren after their wedding. Kristen had bought the property from Johan Albert Jørgensen in 1881. Ovidia's brother Hans Eriksen lived in the house next door with his family.
Ovidia giftet seg med Kristen desember 1881. Kristen var 26 og Ovidia 21. De flyttet inn på Storåkeren etter bryllupet. Kristen hadde kjøpt eiendommen fra Johan Albert Jørgsensen i 1881. Ovidias bror Hans Eriksen bodde i nabohuset med sin familie.
1882 – 1905
In the 23 years between 1882 and 1905 Ovidia gave birth to 15 children. 3 of the children died as infants, and the remaining 12 lived on. 1 daughter (Helma) stayed on in Breivik and the 11 other children moved away. 5 of these emigrated to the US.
I de 23 årene mellom 1822 og 1905 fødte Ovidia 15 barn. 3 av barna døde som spebarn, og de øvrige 12 levde videre. 1 datter (Helma) ble igjen i Breivik og de 11 andre flyttet. 5 av disse emigrerte til USA.
1926
Ovidia died October 15 1926, 65 years old. Kristen was 71.
Ovida døde 15. oktober 1926, 65 år gammel. Kristen var 71.