1883
Lovise Kristine was born September 26 1883 in Breivik in Salten. She was baptised at home October 21.
Lovise Kristine ble født 26. september 1883 i Breivik i Salten. Hun ble døpt hjemme 21. oktober.

1891
In the 1891 census Lovise is 8 years old and living with her family at the Storakeren homestead. She now has 5 siblings; Kaspara, Helma, Astrid, Sigrid, Olaf ( the 1st who died 3 years old in 1892) and Håkon who wasn't baptised yet.
I folketellingen for 1891 var Lovise 8 år og bodde sammen med familien sin på Storåkeren. Hun hadde nå 5 søsken; Kaspara, Helma, Astrid, Sigrid, Olaf (den første som døde 3 år gammel i 1892) og Håkon som fortsatt ikke var døpt.
1900
The census list's Lovise as living and working in Trondheim in 1900. She was 17 years old and working as a maid.
Folketellingen viser at Lovise bodde og jobbet i Trondheim i 1900. Hun var 17 år og jobbet som oppvartningsjomfru.
1902
There is a source in the norwegian emigrant archive stating that a Lovise Kristens left Trondheim and that she had a ticket to America. It seems she sailed on the ship called Salmo, sailing from Trondeim to Hull. Her final destination is listed as Cleghorn, Iowa.
Det er en kilde i emigrantarkivet i Trondheim hvor en Lovise Kristens forlot Trondheim og hadde billett til Amerika. Hun hadde billett med et skip kalt Salmo, som seilte fra Trondheim til Hull. Endelig destinasjon var oppgitt til Cleghorn, Iowa.
The next record is an immigration record regarding a ship called Haverford that left Liverpool September 3 1902 and arrived in Philadelphia.

Louise Christensen is passenger no 20 on the list, and this time her destination is Chicago, Illinois and she has listed J. Jorgensen as the relative she is visiting. This must be the same Johan Albert Jørgensen who sold the remaining part of Storakeren to Kristen Andreas Kristensen in 1881 before emigrating to the US the following year. The familien must have stayed in touch.
Den neste kilde er en immigrasjonsliste for et skip kalt Haverford som seilte fra Liverpool 3. september 1902 og ankom Philidelphia.

Louise Christensen er passasjer nr 20 på listen, og hennes destinasjon er Chicago, Illinois. Hun har oppgitt J. Jorgensen som slektningen hun skal til. Dette må være den samme Johan Albert Jørgensen som solgte sin siste del av Storakeren til Kristen Andreas Kristensen i 1881 før han emigrerte til USA året etter. Familiene må ha holdt kontakten.
1910
Louise married Homer Samuel Sackett on May 4 1910 in Batavia, Kane County in Illinois. She went by the name Louise Christy Dreier.
Homer Samuel was residing in San Franciso, California at the time and Louise was residing in Chicago, Illinois.
Louise claimed her father's name was C.A. Dreier and her mother was Oliveda Christy. The fact is that the Dreier name originates from Ovidia's family. Ovidia's great grandfather on her mother's side was Erich Bing Pedersen Dreyer and was a parish priest in Skjerstad until he died in 1805.
Louise giftet seg med Homer Samuel Sackett i Batavia, Kane County i staten Illinois 4. mai 1910. Hun kalte seg Louise Christy Dreier.

Homer Samuel bodde på dette tidspunktet i San Francisco, California og Louise bodde i Chicago, Illinois.

Louise hevdet at hennes fars navn var C.A. Dreier og at hennes mor het Oliveda Christy. Faktum er at Dreier-navnet stammer fra Ovidias slekt. Ovidias oldefar på morssiden var Erich Bing Pedersen Dreyer, og han var sogneprest i Skjerstad frem til han døde i 1805.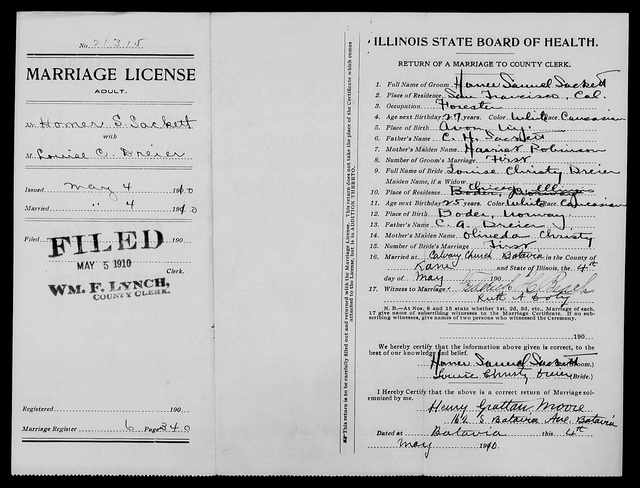 1912
In 1912 Homer Samuel Sackett was portayed in Hardwood Record. In the article Louise is presented as the daughter of Baroness Ovidia von Wemberg. Ovidia was indeed from the Wenberg-family, but they were not nobility.
I 1912 ble Homer Samuel Sackett portrettert i Hardwood Record. I artikkelen presenteres Louise som datteren av Baronesse Ovidia von Wemberg. Ovidia var som kjent fra Wenberg-familien, men familen var ikke adelig.

1914
Louise and Homer's firstborn, Homer Samuel Sackett jr si born in New Orleans May 4th 1914.
Louise og Homers førstefødte, Homer Samuel Sackett jr ble født i New Orleans 4. mai 1914.
1915
October 19 1915 Louise gave birth to their daughter Letitia Sackett in Chicago.
19. oktober 1915 fødte Louise en datter, Letitia Sackett i Chicago.
1920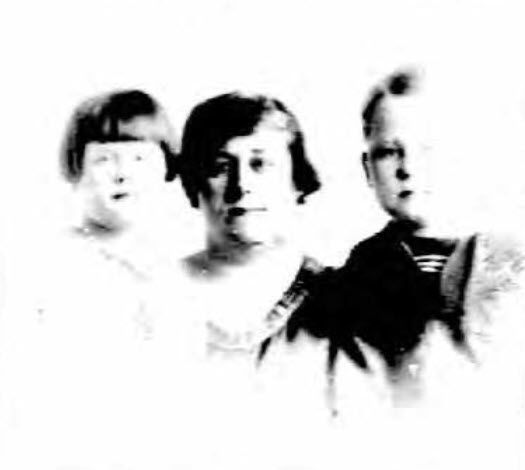 Louise applied for a passport for herself and both her children i March 1920. In her application she wrote that she was going to Norway for 4 months with both her children.
Homer jr was 6 years old, and Letitia 5.
Louise søkte om pass for seg og begge sine barn i mars 1920. I passøknaden skrev hun at hun skulle til Norge i 4 måneder med begge sine barn.

Homer jr var 6 år gammel og Letitia 5 år.
Louise, Letitia and Homer jr returned from Norway in September 1920 and arrived in New York September 7th.
Louise, Letitia og Homer jr returnerte fra Norge i september 1920 og ankom New York 7. september.
1922
Louise Christine Sackett (nee Kristensen) died June 20th 1922. Unfortunately she only became 38 years old.

Her tombstone says she was born in 1885, but she was in fact born in 1883.
Louise Christine Sackett (født Kristensen) døde 20. juni 1922. Hun ble dessverre ikke mer enn 38 år gammel.

På gravstenen står det at hun ble født i 1885, men hun ble født i 1883.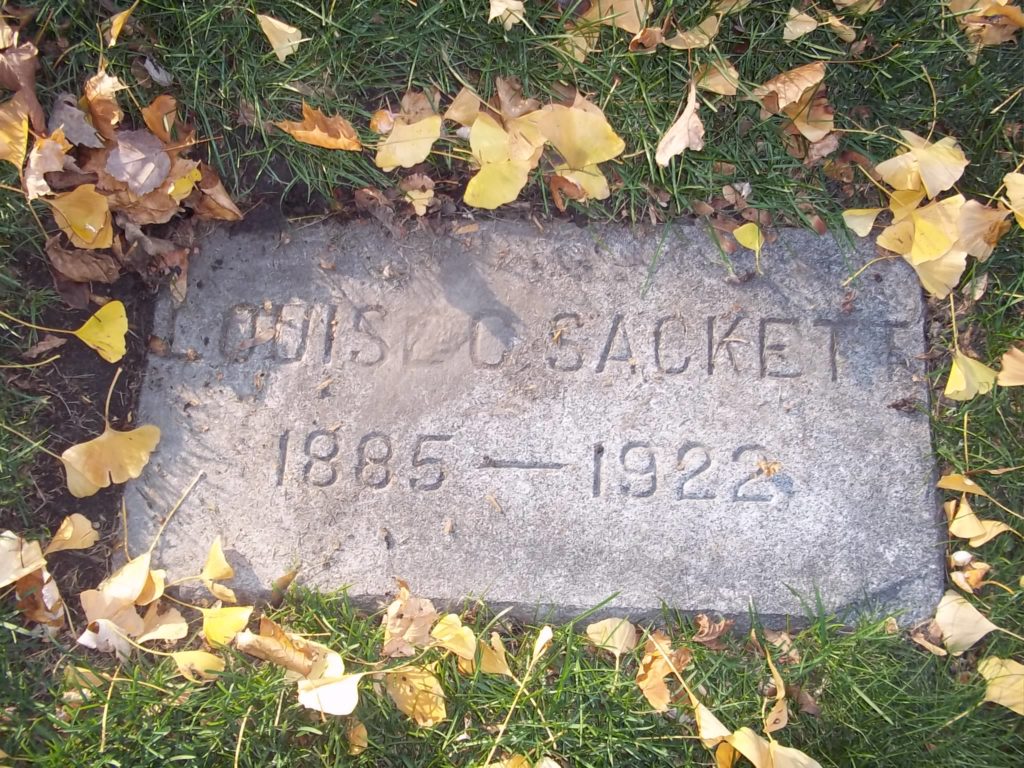 Homer jr was 8 years old when his mother died, and Letitia was 7 years old.
Homer jr var 8 år gammel da hans mor døde, og Letitia var 7 år.
The family after 1922
1930
In the 1930 census Homer Samuel Sackett has remarried, and is living with his new wife Eva Sackett in 1007 Judson Ave in Evanston, Illinois with the children. Samuel jr is now 15, and Letitia is 14 years old.
I folketellingen for 1930 har Homer Samuel Sackett giftet seg på nytt med Eva Sackett og bor sammen med barna i 1007 Judson Ave i Evanston, Illinois. Samuel jr er nå 15 år, og Letitia er 14 år gammel.
---